Our range of Life Insurance Policies
A life insurance policy is a contract with an insurance company. In exchange for premium payments, the insurance company provides a lump-sum payment, known as a death benefit, to beneficiaries upon the insured's death. Typically, life insurance is chosen based on the needs and goals of the owner.
Life insurance provides an infusion of cash for dealing with the adverse financial consequences of the insured's death.
Life insurance enjoys favorable tax treatment unlike any other financial instrument.

 

Death benefits are generally income-tax-free to the beneficiary.
Death benefits may be estate-tax free if the policy is owned properly.
Cash values grow tax deferred during the insured's lifetime.
Cash value withdrawals are treated on a first-in-first-out (FIFO) basis, therefore cash value withdrawals up to the total premiums paid are generally income-tax free.
Policy loans are income tax free.
A life insurance policy may be exchanged for another life insurance policy (or for an annuity) without incurring current taxation.
Why is Life Insurance required?
To provide for the family, financial support in order for them to maintain their life style due to the untimely demise of the insured.
To finance the insured's children's education and ensure it is carried on unhindered due to the unfortunate demise of the insured.
To ensure a constant flow of income for the nominee/remaining family members upto retirement or till they have family commitments.
Sometimes serious illness or a major accident may not result in death, but rather disability…this means that the family will require money for the medical upkeep of the insured as well as maintenance expenses for the family.
What are the factors to be considered while purchasing a Life Insurance policy?
Current income level of the insured and their savings at the given point in time

Number of dependents (financially) the insured has and their financial status

The cost of maintaining the current lifestyle of the family even after the death of the insured

Future expenses for completing the studies of the children

Creating a corpus for the family financial well being
Ideally one should seek the help of an online distributor, insurance agent, banker or broker to understand your financial risks and decide on the right type of cover to mitigate the said risks (at least financially). Some of the popular Life Insurance policies currently sold in the market include:
Term Plan – pure risk cover

Unit linked insurance plan (ULIP) – Insurance + Investment opportunity

Endowment Plan – Insurance + Savings

Money Back – Periodic returns with insurance cover

Whole Life Insurance – Life coverage to the life assured for whole life

Child's Plan – For fulfilling your child's life goals like education, marriage, etc.

Retirement Plan – Plan your retirement and retire gracefull

y
Some facts about the Life Insurance Industry in India…
India has amongst the lowest insurance penetrations across the world at 2.72% of GDP in 2016, significantly lower than the world average of 3.47%. Much smaller countries like Taiwan have a penetration of 16.65%. On important point of note is that among the BRIC nations, represented in the chart below, India is doing relatively better than Brazil and China. You will also note that India's insurance penetration has marginally gone up to 2.76% in 2017, however the global data is not available. All data has been taken from the IRDAI Annual Report 2016-17.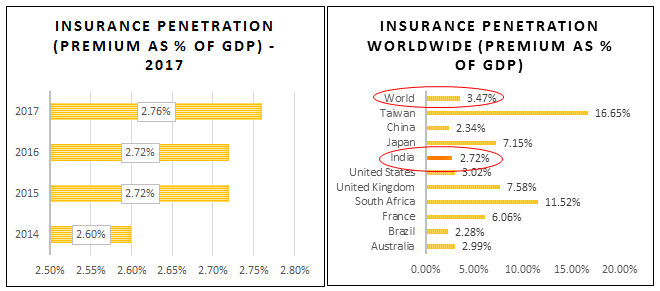 Another parameter that gets generally compared across countries is the Insurance Density. Insurance density is measured or defined as ratio of premium (in US $) to total population of the country. Here India is again significantly worse off than almost all global countries and is more than 80% off the world average density. Again India has shown marginal improvement in 2017, but still has a long way to go.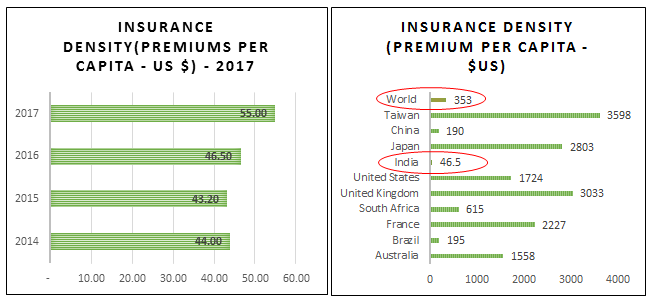 The Life Insurance Industry in India has been growing steadily over the past years and the March 2018 GPW was $ USD 71.1 billion (almost 500,000 lac crores at today's exchange). There are currently 24 active Life insurance players (1 Public sector insurer Life Insurance Corporation or LIC and 23 Private Players).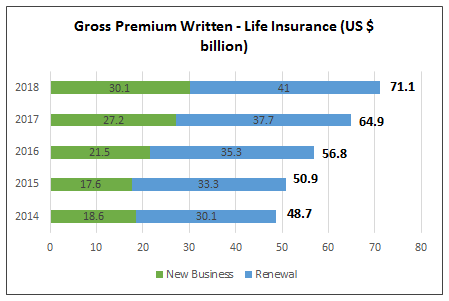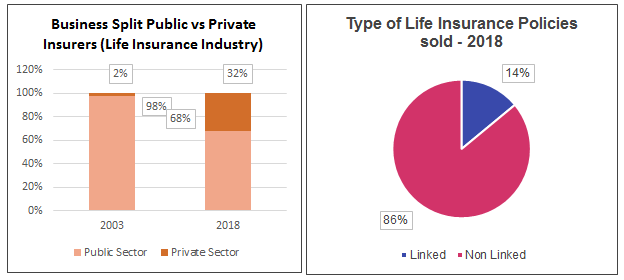 The Private Players have been growing more extensively and aggressively across all channels and hence now enjoy a 32% share (which was 2% 15 years ago). Similarly in terms of products also, the ULIP sensation has now quietened down and now Non Linked products have a significant and dominating 86% of all Life insurance policy sales.
Some Do's and Dont's (as prescribed by IRDAI)
Do's
Think through why you are buying insurance and what core requirements and expectations

Seek and receive advice and options patiently

Be open-minded but cautious about the advice and information you gather Ask lots of questions about the policy options to see what fits your needs Find out policy details like: Whether it is a Single Premium or Regular Premium policy Which is the best premium payment frequency that suits you eg: Annual, quarterly etc. Whether there is an ECS (Electronic Clearing Service) payment option to make your premium payment safe and easy

Fill the proposal form very carefully and personally

Fill it completely and truthfully, Remember you are responsible for its contents Make sure that the information you give cannot be disputed during a claim Ensure you fill Nomination details If the form is in one language and you are answering the questions in a different language Ensure the questions are explained correctly to you and That you have understood them completely Remember you have to give a declaration to this effect in the proposal form

Keep a copy of the completed proposal form you sign and any declarations and terms agreed upon mutually for your records

If you are buying Unit Linked Insurance Policies (ULIPs) ask specific questions about:




Various charges

Fund options

Switching of funds

Benefits if you




Discontinue the policy

Surrender the policy

Make a partial withdrawal of funds
Don'ts:
Do not leave any column blank in the proposal form

Do not let anyone else fill it up

Do not conceal or misstate any facts as this could lead to disputes at the time of a claim

Do not miss or delay your premium payment
Term Life Insurance Policies
Decreasing Term Insurance
Decreasing term insurance is a term life insurance plan that provides a death benefit that decreases at a predetermined rate over the life of the policy. Premiums remains constant while reductions in policy payout typically occur monthly or annually.
For example if your insurance cover Rs. 50 Lakhs for 20 years and suppose the cover decreases by 5% every year, then after 10 years your cover will be Rs.25 Lakhs.
Increasing Premium Term Insurance
Increasing Term Insurance is a term life insurance plan wherein the sum insured rises at a predetermined rate over the life of the policy. The premiums may or may not vary depending on the plan chosen
For example if your insurance cover is Rs. 50 lakhs for 20 years and suppose the cover increases by 5% every year, then after 10 years your cover will be Rs.75 Lakhs.
Return of Premium Term Insurance
As the name suggests the return of premium term insurance is a type of term insurance which will pay back the premium paid by you at the end of the term, in case you survive.
if you pay Rs.10,000 per year for 25 years for a cover of Rs.50 lakhs, the insurance company would repay to you Rs.2.5 lakhs at the end of 25 years in case you survive.

                                                                                                                         5 Year Level Term Insurance
The face amount of this 5 year term life policy remains level for the entire 5 year period and so does the premium. Upon death the face amount is paid either in one lump sum or in the form of an income. If you have a short term need for life insurance, like covering a bank loan, then this may be the plan for you.
                                                                                                                             10 Year Term Insurance
Like the 5 year term policy, the 10 year term life policy can be used to cover a bank loan, but it can do considerably more. It can be used for family protection and a myriad of other needs. The face amount of the policy remains level for the duration and so does the premium. Some companies allow you to continue the policy after 10 years with an increase in premium.
                                                                                                                                20 Year Term Insurance
The 20 year term insurance policy is probably the most popular of term life policies. The death benefit remains level for the duration and in some cases so does the premium. With some companies, however, the premiums increase after the first 10 years to reflect the cost of the additional risk to which the insurance company is exposed as the insured gets older. All in all, the 20 tear term life insurance policy is fairly inexpensive and does the job it is intended to do.